Beavan Family Butchers
Beavan Family Butchers as seen on National TV

Beavan Family Butchers as the name suggests is a traditional family butchers run by Huw, Jan & Gareth from a shop in the heart of Monmouthshire's food producing area. Far from being a business that has been in the family for generations Beavan Family Butchers was created in 2009 to bring meat produced from the Beavan's farms directly to customers in Abergavenny.
The Beavan family own two farms, one on the Skirrid mountain and the other near White Castle both in northern Monmouthshire. The family as a whole have been farming for over 100 years and with the next generation involved in the business we hope to be able to maintain this tradition in the future.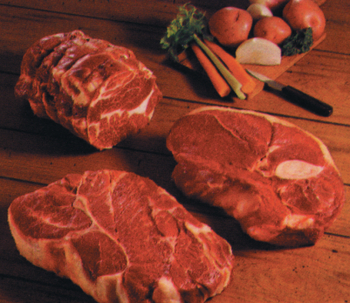 On the beef side we keep Limousin suckler cows producing top quality lean meat slaughtered locally. The meat is hung to mature ensuring a tenderness and flavour that is not found elsewhere.
We have 900 ewes and expect around 2000 lambs each year which are generally crossbreeds and a mixture of Charolais, Texel and Suffolks. These are sold in market in late spring and a small number retained for sale through our butchers shop. Our lambs are therefore in prime condition when slaughtered and because of their limited transportation are tender and flavoursome.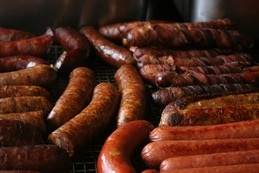 In addition to the farm produced goods we offer Yorkshire grain fed chickens which are very succulent and are available in most weights. Free range chicken and duck eggs are always available in half dozen and dozen packs.

Pork is sourced locally from 'Jamies Farm' Rowlestone where they breed Gloucester Old Spot pigs for flavour and the breed Pietrain for meat quality.
We make our own sausages and burgers throughout the year. Some of our more popular flavours are sweet chilli and garlic and pork and apple. At the right time of year wild garlic and chestnut can be introduced.
Home made faggots are very popular throughout the year and are equally available to the trade.
Smoked and unsmoked bacon is purchased locally and be bought loose or pre packed. Gammon can be cut to size as a joint or as steaks.
Beavan Family Butchers offers quality own produced lamb, beef and pork humanely killed and brought fresh to the shop as required.